Dealing with A Size Restriction?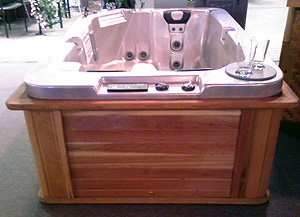 If you are dealing with a size restriction, try our newest spa to Spa Manufacturers. Introducing the JAMAICA! This is a small spa but has the power, features and therapy any large spa could offer you. The Jamaica features 2 deep captains' chairs completely loaded with jets to give you the deep tissue massage your body needs, 1 lounge with therapy shoulder jets and our patented WATERFALL!
Measurements of the Jamaica are
57-3/4" W x 81-1/4" L x 30" H
Being a manufacturer that has been in business for over 27 years, we know what our customer's wants and needs are. You want therapy, entertainment, quality & warm water all in one package. Please take your time and look at what we have to offer you.
Click on a picture below for a larger view.
If we may assist you personally,
contact us
.